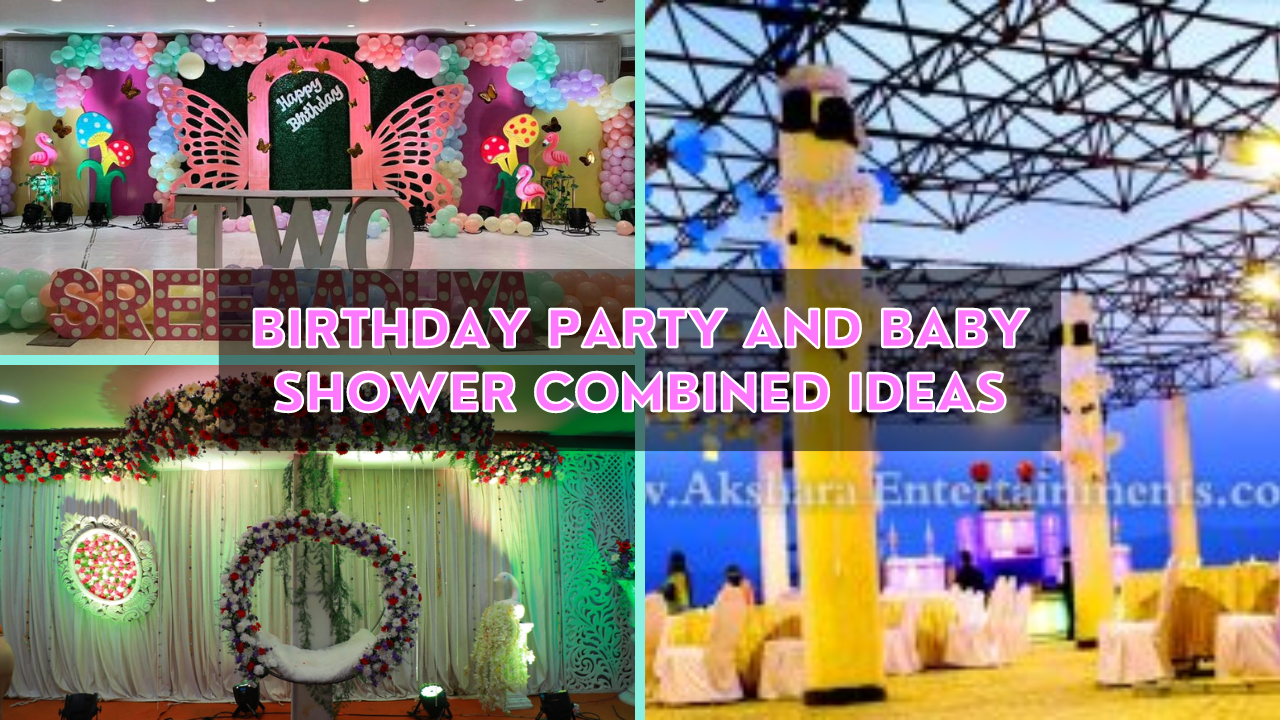 Combining a birthday party and a baby shower is a Lovely way to celebrate two most special celebrations. This event is perfect for families expecting a new addition to their family and celebrating a child's birthday. Mixing these two events can often create a memorable and enjoyable occasion for those involved.
One advantage of celebrating these two birthdays and a baby shower is that you can save time and money by only planning one party rather than two. You can also customize the event by including unique features for each occasion.
When planning a combined birthday and baby shower, it's essential to consider the needs and preferences of both the birthday child and the expectant parents. You should select a place that can handle all age groups and create activities suitable for young and older people. You can create an amazing party for everyone with a little imagination and careful organization.
Choose a Theme
Choosing a theme is important for celebrating these two events simultaneously, as themes make celebrations more unique.
Carnival theme: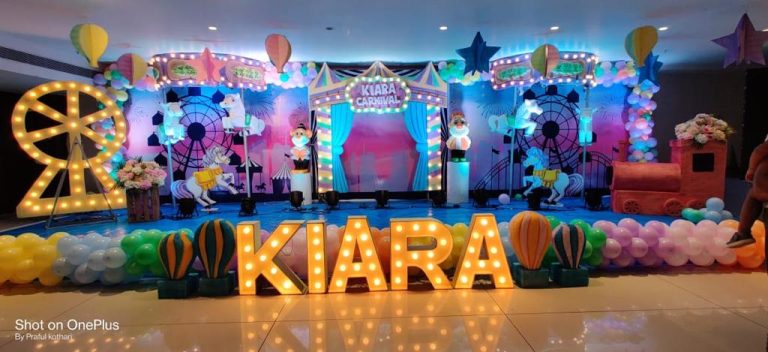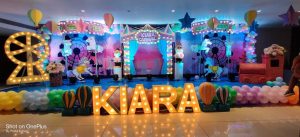 This is an excellent choice for a combined birthday and baby shower. You also include carnival games like bean bag tossing, balloon pops, ring tossing, and carnival-themed cuisines like cotton candy and popcorn. You can arrange a "Guess the Baby's Due Date" game or a "Diaper Raffle" where visitors can enter to win a prize by bringing a pack of diapers for the new baby for the baby shower.
Garden Theme: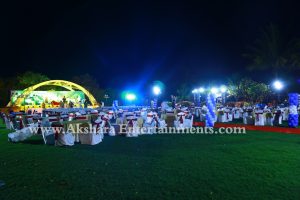 A garden party is ideal for a spring or summer celebration. A garden-themed cake, floral decorations, and even a Homemade terrarium station are all options. You can arrange a "Plant a Seed" activity at the baby shower where guests can make their seed packets or plant a little to take home.
Storybook theme:
Photo Source : uniquepasticheevents
Pick a favorite kid's storybook for the décor, food, and games. You might, for example, have a "Where the Wild Things Are" theme, decorate with forest-themed decor, and set up a craft station where kids can make their paper crowns like the ones in the book. You may play a "Guess the Baby Book" game at the baby shower, in which visitors must match the title of a children's book to a story description.
Beach theme:
A beach theme is ideal for a summer party. You can provide a beach-themed cake, beach balls, sand toys, and beach-themed food such as fish tacos and fruit skewers. You can offer a "Baby Beach Bucket" gift station at the baby shower where guests can fill a little bucket with baby basics like pacifiers, bibs, and onesies.
Whatever theme you choose, combining aspects from the birthday and baby shower celebrations will result in a unique and memorable event for everyone involved.
Invitation
Inviting your guests to your combined birthday and baby shower celebrations is time. The invitations should include all the details, such as the date, time, location, and RSVP information. Here are some ideas for invitations that will set the tone for your special event:
Digital invitations:
Digital invitations are an excellent option for those who want to save time and money on printing and postage.
Themed invitations:
To create excitement for your combined birthday and baby shower celebration, you can design invitations incorporating your chosen theme.
DIY invitations:
For a more personal touch, make DIY invitations out of cardstock, stamps, and stickers. This is a wonderful alternative for individuals who want to be creative and personalize their invitations.
Picture invites:
Photo invitations are an excellent method to highlight the birthday child and the parents. Add a photo of the birthday baby on the front of the invitation, and on the back, include a photo of the parents. This is an excellent way to decorate your invitations while creating a memory for your guests.
Provide all information, regardless of the type of invitation, and get it out as soon as possible.
Decorations:
Decorations are an important part of celebrations, and they may affect the overall mood and atmosphere of your combined birthday and baby shower. Bringing your concept to life is easy with these décor suggestions:
Balloons: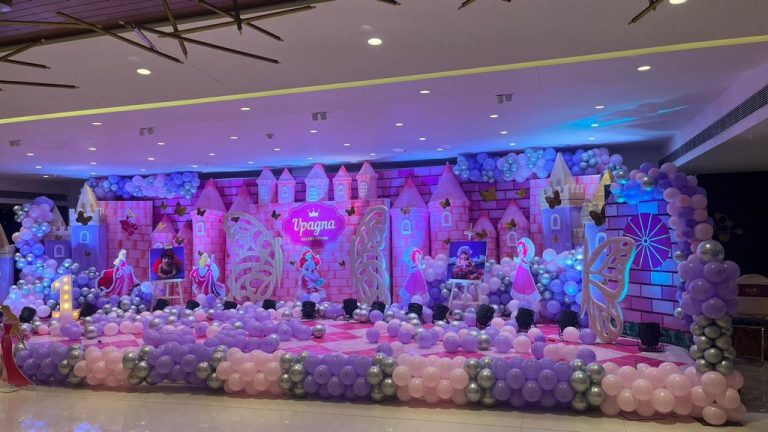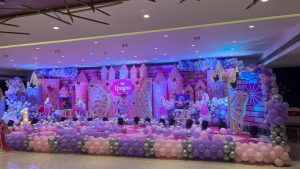 Balloons are a classic decoration for any celebration, and they can be used in various ways to match your theme. For example, if you have a tale piece, you can make balloon animals or use colorful balloons to depict the characters in the storybook. You can describe the ocean with blue and white balloon decorations for a beach theme or make a balloon arch with beach-themed coloring like yellow and orange.
Banners: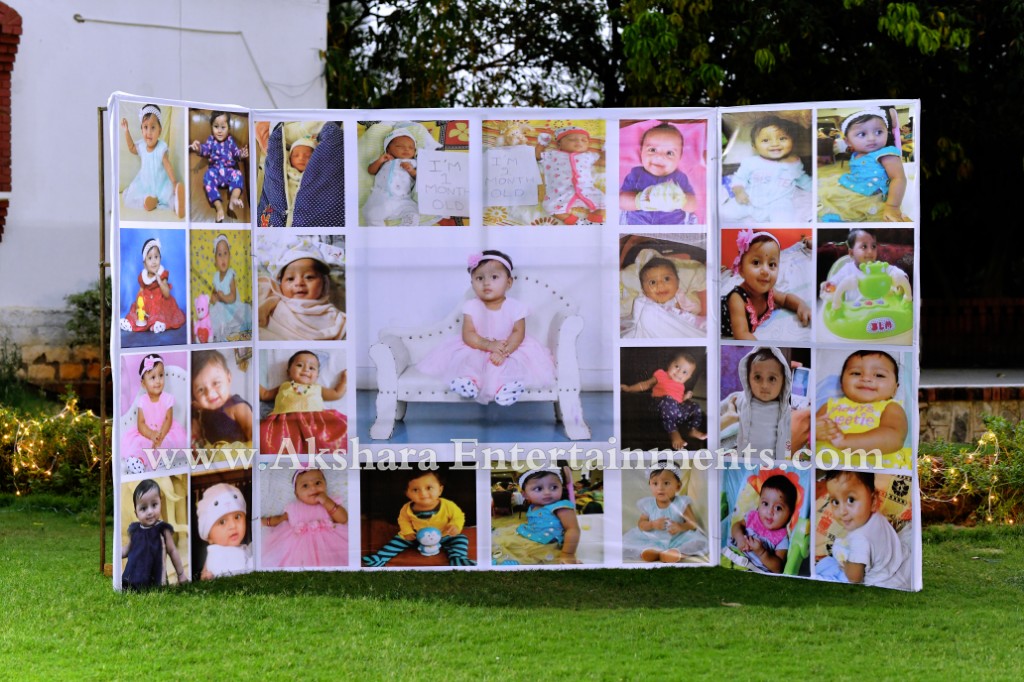 A banner can add a festive touch to any event. We offer Akshara Entertainment banners and Normal Backdrops with your choice of theme. Garden themes can be decorated with banners with flower patterns or items found in the garden, such as shovels and watering cans. With its bright colors and circus-inspired features, carnival banners work well for carnival displays.
Center pieces:
Centerpieces are an excellent way to bring color and style to your tables. Centerpieces can be made with flowers, balloons, or themed decorations. For a storybook theme, use stacked books as centerpieces or insert little figurines of the characters. With a beach theme, you can use seashells or sand dollars as centerpieces or make a centerpiece out of a beach ball or an inflatable pool float.
Picture booth:
A photo booth is a great way to involve your visitors in the celebration and help them make memorable moments. You may construct a Homemade photo booth using a backdrop and accessories that go with your theme. For a garden theme, you may use a floral backdrop and furnish accessories like hats and gardening tools.
No matter your chosen decorations, ensure they keep your chosen theme and create a joyful and festive atmosphere for your combined birthday and baby shower party.
Food and beverages
Food and beverages are important components of any celebration, and they can help set the tone for a combined birthday and baby shower event. Here are some food and beverage suggestions to help you construct a menu that fits your selected theme:
Finger foods:
Because they are easy to consume and do not require knives and forks, finger foods are a fantastic choice for a combined birthday and baby shower party. You can prepare a menu of themed finger foods, such as mini quiches and cucumber sandwiches for a garden theme or mini hamburgers and popcorn for a carnival theme.
Desserts:
You can make desserts that go with your celebration's theme. Desserts are a necessity for any celebration. You can create cupcakes with fondant decorations matching the storybook characters for a narrative piece. For a beach theme, you can make cookies from graham crackers and blue frosting or cupcakes with blue icing to symbolize the ocean.
Drinks:
Drinks are another essential part of any celebration; you can create drinks that match your theme. You can make a signature cocktail with floral flavors like lavender or rose for a garden theme. You can create a fun and colorful punch with fruit juices and soda for a carnival theme.
Cake:
A birthday cake is a must-have for any birthday party. Make a cake with fondant decorations of the storybook characters for a storybook piece. Make a cake with blue frosting and seashell decorations for a beach theme.
When planning your menu, consider any dietary restrictions or allergies your guests may have. Consider designing a special menu only for kids or adding foods that are good for babies. You can ensure everyone has a good time at your combined birthday and baby shower party by preparing a menu that fits your theme and meets your guests' demands.
Activities
With these fun and memorable activities, you can engage and entertain your guests during your combined birthday and baby shower celebration.
Storytime
Dance show
Diaper raffle
Photo booth
Baby bottle chugging contest
Craft Station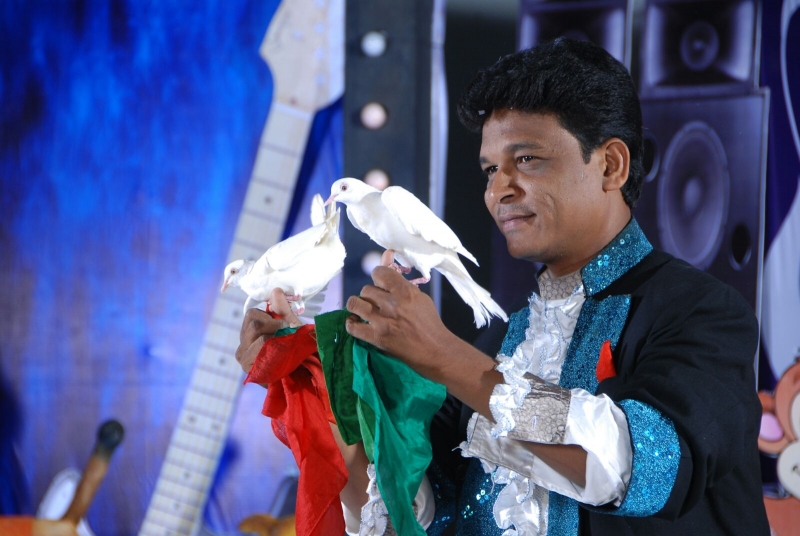 Gifts:
When creating your gift registry, make sure to include a variety of price ranges to satisfy all of your guests. By suggesting gift ideas that match your theme and are helpful for both occasions, you can make the gift-giving process more enjoyable and stress-free for everyone involved.
Personalized gifts
Diapers and baby essentials
Gift cards
Children's books
Toys
Conclusion:
A birthday party and baby shower combined are a wonderful way to share two wonderful occasions with your loved ones will create Akshara Entertainment. We can help you in Choosing a theme that complements both events and can help you to organize a party that is both exciting and memorable. We customize everything from invitations to decorations, food, drink, activities, and presents to fit your theme and make the celebration extra unique. To satisfy all of your guests, don't forget to call the best Birthday party Organizers in Hyderabad; we organize age-appropriate activities and provide a range of gift suggestions. You can have a fun and memorable celebration that will be cherished for years.