Birthday Party Organisers in Hyderabad
Express your feelings for your loved ones on their special day! Give life to the cherished moments, celebrate and seal the bonding of love, care and affection. Call on us, the Birthday Party Organizers to mark the new exciting beginning of your journey.
We promise you:
Impeccable Arrangements
Unforgettable celebrations
We are the new-age event organizers with innovation at every step. Our creative team is a contemporary blend of modern young talent along with seasoned-settled, experienced crew. That makes us ideal as Birthday Party Organizers for a terrific event with the most fashionable decorations. With diverse experience behind us, we provide one of the most creative Balloon Decorations in Hyderabad. As Birthday Party Decorators, we love to know what pumps up your excitement quotient. We mix and match to decorate the best and render a mesmerizing effect.
Call us for the best birthday party Decorators & themes in Hyderabad.  Everything arranged to a nine, no chances of a slip and that's our assurance. We are those Birthday Party Planners, who ensure best-laid plans to go their own way without a single diversion.   It's birthday time, get in touch with us fast for that special day which won't ever be the same without us. 
Birthday Party Planners in Hyderabad
Akshara Entertainments offers theme designs and birthday party decoration services in Hyderabad, Secunderabad, Telangana, and Andhra Pradesh.
We have been organizing birthday parties for the past 10 years and growing steadily with new creative themes for birthdays. We help you organize birthdays and events with a level of professionalism and creativity. Our unique birthday themes will make your occasion special and memorable for kids and families. As the best Birthday Party Organiser, we will ensure you that we will give the best themes @ a good price for your birthday party.
We offer a creative blend of themes for all sorts of budgets. We are specialized in Normal Backdrops, 2D Themes, 3D Themes, and balloon decorations. We have 100's the latest and most creative themes: Wonderland, Madagascar, Mickey 3D, Chota Bheem, Angry Birds, Jungle Theme, Star Theme, Fairy Tale, Mickey Mouse, and many more. If you have any new ideas, you can share them with us so that we can discuss with our design team the feasibility of the theme as per your idea.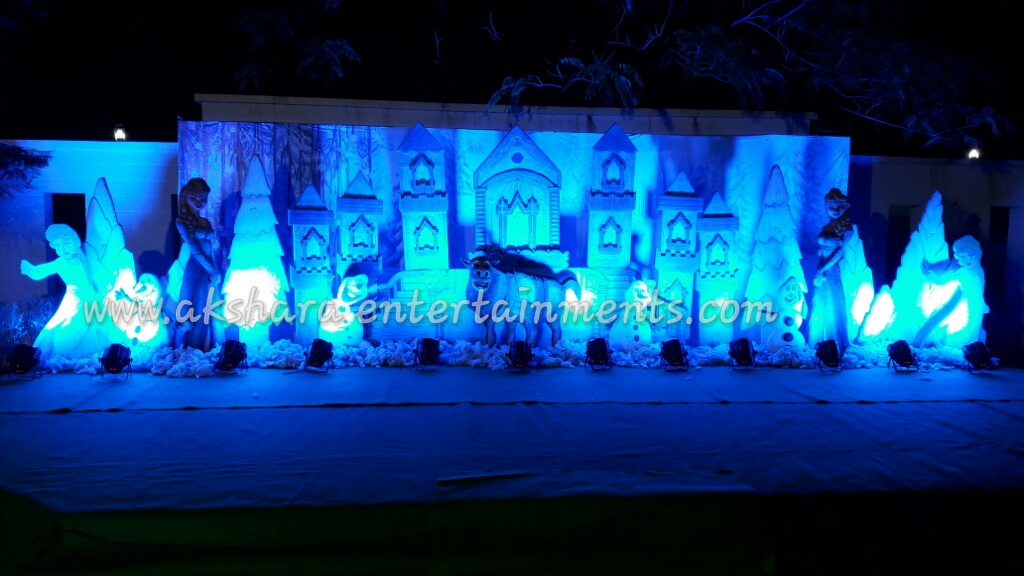 We are one of the premier Birthday Party Decorators / Organizers in Hyderabad, who have executed varied types of birthday themes and a matching party to go with it. We began the endeavor with several innovative ideas and experimented with different looks and themes. Ours is a team of professionals clubbed with dreamers, and this inimitable combination makes us stand apart and wins us a perfect edge all over. There was no stopping after the initial wait, the bubbling time every commercial enterprise goes through. We pin this success to the ever-ready teams and their respective leaders who are there for every beck and call of the customer. The customer was, is, and will always be a central icon for us, Birthday Party Decorators / Organizers in Hyderabad. Our clients become our partners where exclusive selections and theme refinement are concerned. Our track record shows that we haven't let a single suggestion of our client drop.
We Are Passionate About Innovating, Organizing And Executing
As state-of-the-art Birthday Party Decorators / Organizers in Hyderabad (Telangana), we always watch for fresh and varied ideas to put in front of our customers. With a long and strong experience of being in the business of organizing a creative yet well-planned event, we are always looking for challenges in every arena that defies the general or usual standards in design as well as time frames. These drive us to perform beyond the call of our jobs. At the same time, we travel to grassroots levels with our clients to catch hold of their expectations in their basic form, without any changes or modifications.
Our Rich and Varied Experience Does The Job
Our Motto: We strive to be one of the most reliable and innovative Birthday Party Decorators / Organizers in Hyderabad (Telangana). Our passion for designing themes is driven by our esteemed customers and our unmatched success. Our Vision: To be recognized as the unique Birthday Party Decorators / Organizers in Hyderabad, also known for their exclusivity and timeliness. As a Birthday Event Organizer in Hyderabad, our team should perform as a single force when put together while marching towards a single focus. As the groundbreaking Birthday Party Decorators / Organizers in Hyderabad, we should reach varied locations along with newer and diverse themes.
Why is Akshara Entertainments Hyderabad is leading party Organizers?
Akshara Entertainments is the best event management company in Hyderabad that provides competent services for arranging birthday parties. We make on-time arrangements flawlessly, which earned us great recognition as party service providers in the city. Realize your dreams into reality by booking services from experts at Akshara Entertainments.
What all services do we specialize in?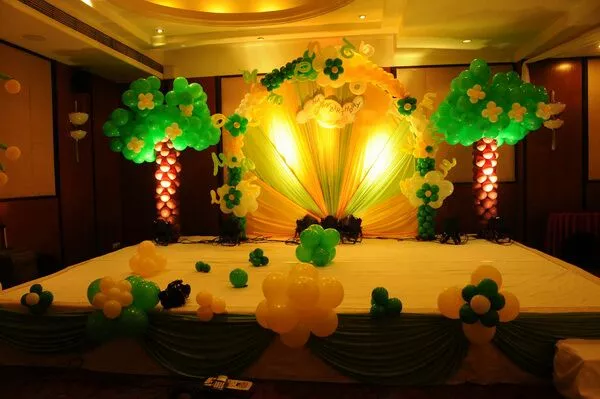 We have an adept team to take care of your birthday event from scratch until execution. Our team is available to transform your dreams into reality and handles all the properties and backdrop setup.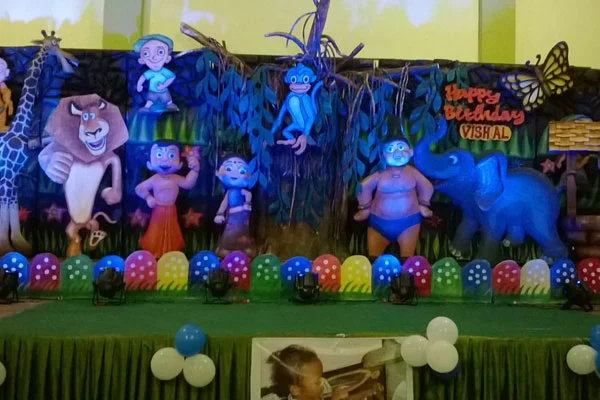 Different versatile balloon themes are available on our website for customers to choose from based on their liking.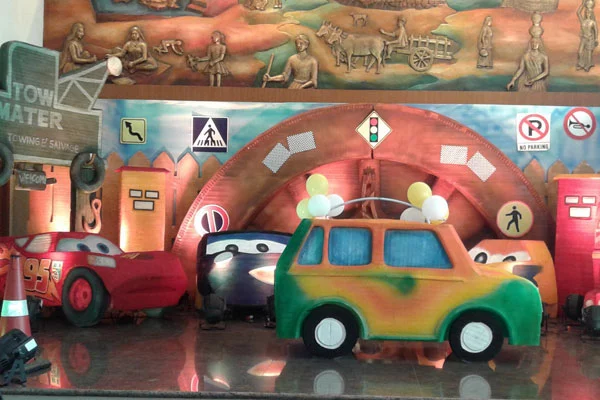 A naming ceremony is a special event for infants, and we take care of it beautifully to create long-lasting memories for your child.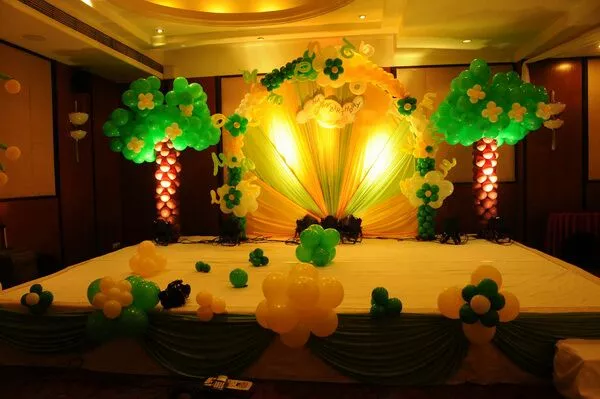 Akshara is popular for flower arrangements with a creative team of decorators to make your wedding backdrop vivid.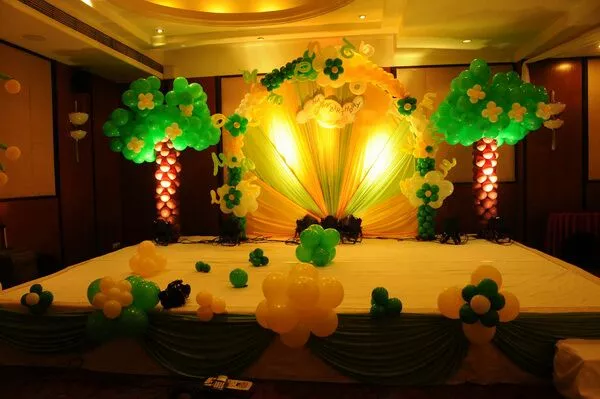 We understand that weddings are made in heaven and are once-in-a-lifetime events. So, we employ our dynamic team to understand the client's requirements and work according to their budget. Our team specializes in creating wonderful wedding backdrops to glorify the event and make lifelong memories.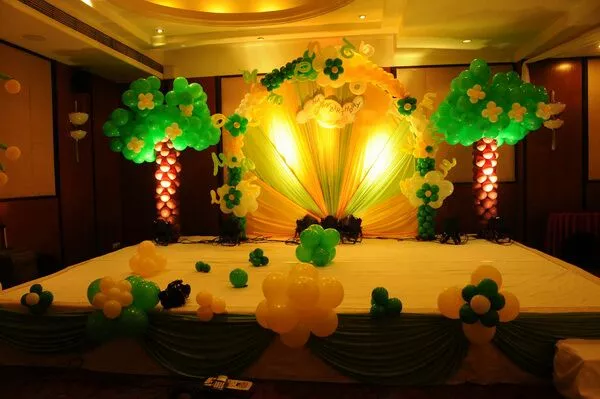 A birthday event is very special, especially if it your first party for your little munchkin. Our innovative 2D and 3D theme decorators specialize in creating stunning birthday setups to cherish the event.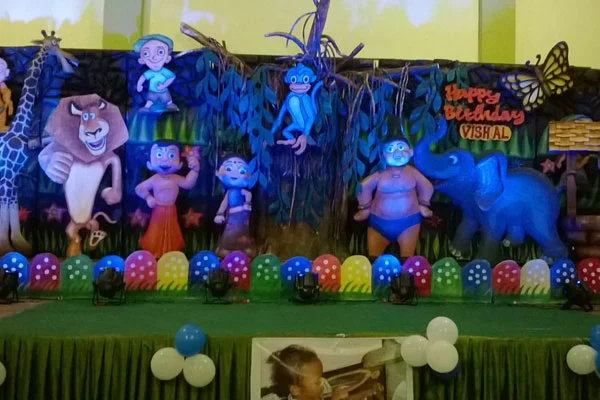 A large number of unique backdrop themes are available on our website to deliver a vibrant setup for all your events.
We Research & Experiment For Freshness Every Time.
We need to understand every requirement of our customers. That is why the birthday party Decorators / Organization starts long before the actual date. There have been several demands from the customers which needed an entirely fresh outlook and a great deal of research in terms of knowledge and techniques. We are happy we took each challenge with great enthusiasm and energy to match it. This has led us to our journey full of new tasks at different junctures. Thus, we can now claim to be one of Hyderabad's most experimental Birthday Event Organizers.
You have to click or call ….
And we will be there in no time to discuss your event and gather your views along with the smallest details. Our accomplishment is executing the desired set-up strictly, conforming to the prescribed time frames. We love to deliver exact specifications in perfect timelines, so rest assured once you get in touch with us! Happy partying! Happy birthday!
Which Birthday Themes Would Be Good For Children?
Are you looking for an amazing birthday theme for your kid's birthday party? The joy of celebrating someone's birthday, especially a child, is always enjoyable. Parents look for new and interesting birthday themes for kids every year to make their child's birthday special. Finding the greatest birthday themes can, however, be difficult and stressful at times. And to make your search simple, we have listed some fantastic birthday party themes that both your kids and the attendees will love.
Unicorn-Themed Birthday Party
The finest birthday party theme for children is unicorns. Unicorn parties are inexpensive to host and do not need a lot of resources. Make your child's party fantastic and memorable by ordering a unicorn-themed cake, themed gowns, balloons, party heads, unicorn pinata, and return gifts.
Superhero-Themed Birthday Party
Kids have always been attracted by superheroes and their superpowers, from Batman to Superman. Kids occasionally believe they have superpowers, can save the world and can transform into a superhero. So, by hosting a birthday party with a superhero theme, you may bring your children's dreams to life.
Minion-Themed Birthday Party
Surprise your children by planning a birthday celebration with their favourite cartoon theme. Children adore animations, and one of the funniest ones from the Despicable Me movie is the Minions. So whether Stuart, Kevin, Gru, or any other character is your child's favourite, this minions birthday theme is a really fun birthday celebration for kids. For your child's birthday celebration, order a minion cake and plan some wacky minion games.
Mickey and Minnie Mouse-Themed Birthday Party
The most well-known and beloved Disney characters among children are Mickey and Minnie Mouse. These animated films are enjoyed by adults as well as children. When you hold a birthday party with a Mickey and Minnie mouse theme, your kids and visitors will have a blast. These cartoon characters are so adorable and lovable.
Why Choose Akshara Entertainments for Birthday Parties?
Akshara is the perfect party planner company serving many clients since 2007 with well-planned curators who work with sheer passion for bringing out unique designs. We value our customers and strive to fulfill their expectations by celebrating their dream event.
Simple Steps for booking a venue for Akshara Entertainments birthday party in Hyderabad?
As one of the renowned birthday party Decorators / organizers in Hyderabad, we offer facilities like booking venues for our clients. Visit the contact us section of www.aksharaentertainments.com after logging in. Next, enter your contact information in the inquiry field so that we may get in touch with you if your birthday celebration needs to be urgently planned.
Here Are Some Tips on How To Plan a Themed Birthday Party in Hyderabad
Pick an Affordable Location
The greatest approach to save money is to host the party in your home with a small number of people if you don't want to spend money renting a party space or hall. We at Akshara Entertainments will help you have your birthday party at home and will provide you with numerous inexpensive decorating ideas so you can turn your house into a party venue.
Create personalized invitations
It's time to invite your family and friends to the birthday party event once the location and time have been decided. Giving your invitations is another simple way to reduce party expenses. Birthday event party planners in Hyderabad, like Akshara Entertainments can help clients find sample invitations and free templates online.
Birthday Party Event Organizers will organize your party based on any theme you select. On any theme, the birthday party decorations, cake, clothes, stage, etc. are completed. This is all you can do if you're arranging a party at your house or renting a venue space. They will only go for a theme that calls for little expenditure on furnishings and attire.
Some of The Most Popular Decorations For Girls' Birthday Parties
Sleepover birthday parties- Nothing makes girls happier than spending precious time catching up with their girlfriends in the early hours of the morning. And a sleepover birthday party is just that.
Princess birthday parties- There is a tonne of potential princess party themes to select from, including Elsa, Moana, and even traditional princesses like Cinderella and Snow White. Your daughter can become a princess even if it is for one day.
Barbie birthday parties- A Barbie-themed party will be the perfect fit for your daughter if she adores Barbie dolls. For the ultimate Barbie effect, decorate with lots of pink and black!
Some of The Most Popular Decorations For Boy's Birthday Parties
Treasure hunt birthday parties- Kids love a backyard scavenger hunt, and if you're trying to stick to a strict party budget, this is a great theme. Set up clues leading to one another and concluding with the discovery of the treasure, which is a stack of "gold brick" party favours.

Detective birthday parties- Your child may like a little mystery. He and his friends will play detective for the day as part of the ultimate "whodunit" to celebrate his birthday.

Gaming birthday parties- You must admit that your boy's love of video games provides for a very simple party theme. With a themed birthday party decorators, you can emulate your child's preferred game. There must be a video game tournament to add to the excitement at the birthday party.
Let Akshara Entertainments help you plan your next birthday party! Check out these booking tips:
We at Akshara Entertainments have a quick responsive support team to answer any questions about planning your kid's next birthday party.
One can visit our office directly at Akshara ENtertainments Birthday Party Organisers, Decorations Hyderabad 3-8-6/4, Nehru Nagar, Ramanthapur Hyderabad, Telangana 500013, and get their queries answered.
Clients also have the option of booking by placing a call at these numbers: +91-80191 43046, +91-9866899829, or by writing to us at aksharaparties999@gmail.com.
We also have a contact us form where the client can put in their name, phone, and email address, select the kind of event that they want our expertise on, and then type a message. Once we receive this, we contact them at the earliest and guide them through the booking process for the birthday party.
For any Urgent requirements, Get in Touch Now!