Best Wedding Decorators in Hyderabad
Best Wedding Planners in Hyderabad
Akshara Entertainments, the Best Wedding decorators & Planners in Hyderabad is an awesome wedding planner and decorators company based in Hyderabad, India.
Modernization has impacted wedding arrangements planning these days. Event management professionals are taking up the responsibility with fancy ideas and materials and delivering a flourishing wedding these days. Though old-fashioned weddings are on the move, professional event managers handle everything from photo-shoot, catering, decorations, destinations etc. The best feature of wedding planners is that the couples and their parents save time and are relieved of tension.
We are serving since long now and our function designs are very fresh and innovative. We have catered many events in Hyderabad and India. Akshara Entertainments consists of young, dynamic and professionals bringing entertainment and fun unlimited to parties and occasions.
Marriages are made in heaven and decorated by wedding planners. There are several wedding planners in our country who make our special day more beautiful. The wedding day, an ultimate day for every couple and individual is a day unforgettable. And every couple always wishes to make the day memorable. Akshara entertainments, wedding Decorators & planners in Hyderabad and Secunderabad do an excellent job. They not only take the clients seriously but also treat them as Gods.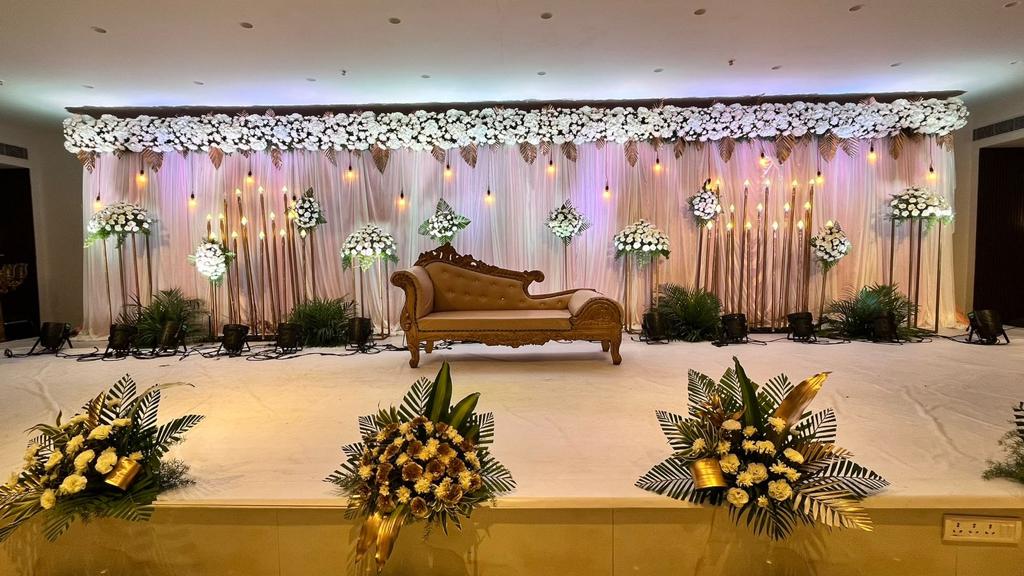 The wedding decorators in Hyderabad and Telangana provide you service with best packages and according to your budget and desire. Whether you are looking for creative or amazing wedding decoration themes, the wedding decorators in Hyderabad and Telangana makes it possible. Akshara entertainments have professionals in organising wedding themes and they manage to make it memorable.
We, the wedding decorators in Hyderabad and Telangana have an amazing team who are total trendsetters and creative designers best known for their amazing decor accents, creative ideas and exquisite attention to every last detail in wedding decorations. We have the privilege of providing wedding decorations to some of the top standard industries in Telangana and Hyderabad.
Wedding Backdrop Decoration
We believe in quality service instead of money. Working with this philosophy, we believe that an event can be a huge success with the following significant features.
Akshara Entertainments follows fresh and innovative wedding decorations. Dynamic and young professionals go for concept-based wedding backdrop decorations as requested by the customers. We adopt modern technology and advanced solutions that make wedding decorations stand out from the rest.
Our floral decorations are extraordinary as we play with the right colours, exceptional arrangement, ambience and fragrance to make the stage attention-grabbing. We also take the responsibility of making grand mandaps, exotic arches, impeccable sangeet sets and reception decors with happy vibes. We have experienced and competent staff, and we believe in quality service. Hold hands with Akshara entertainment for immaculate wedding themes.
For those hunting for the latest, creative wedding planners who grab the attention of all guests, Akshara Entertainments Wedding services in Hyderabad, is the best choice. Our team makes impeccable arrangements that create a happy vibe and bond the relationship among family members.
The grand event in any individual's life in India is the wedding, and couples plan for the wedding theme and many other decorations to make their wedding unique. By choosing wedding themes and unique decors, the couples and their associated people land in seventh heaven and enjoy the blissful moment.
How to Choose The Right Wedding Decorator in Hyderabad?
Choosing the right wedding Planners and decorator is vital for one planning to associate with wedding organizers. Henceforth, good wedding decorators guarantee a special occasion and carry the memories for your lifetime. Let us dive and learn how to choose the right wedding decorator in Hyderabad.
Looking at all these points, Akshara Entertainments in Hyderabad is an exclusive choice as they have all the qualities required for wedding decor.
Akshara Wedding Decoration Services Includes:
Akshara Entertainments follow the latest trends and are a new-age event organizer. Moreover, we adopt the latest décor ideas and captivate the customers and guests. Our wedding decoration services include several decors as follows.
The fresh and innovative designs highlight Akshara Entertainments. We have dynamic, young, enthusiastic professionals turning the wedding into a memorable occasion. The best flower decors participate and make creative and attention-grabbing patterns that grab everyone's attention.
The mandaps play a crucial role during the beautiful moment of sharing of two souls. Akshara entertainment ensures to design of the mesmerizing mandap with unique décor ideas.
We follow a chic choice of floral arrangement for making the most charming arches. The choice and mix of flowers with striking patterns make the arches an elite one.
Our professionals make fancy and exquisite reception decors. We brim up newness and portray fresh and unique trends on the stage. Our ideas bloom, and we make fancy concepts for reception decors.
For the Mehendi ceremony, we ensure colourful, vibrant and glitzy sets that push everyone to celebratory mode. Our decorators drench the stage with whimsical glimmering décor that captures everyone's heart immediately.
Akshara wedding decors has an expert team of decorators who make all the latest wedding decors. We read the minds of today's generation and make the most delinquent themes and customizations.
Why Choose Akshara Entertainments?
Akshara entertainment has years of experience and follows the latest trends holding traditional methods too. We are pocket-friendly and take complete responsibility from the start till the end. We have the consciousness and knowledge of ongoing trends and ensure to make satisfying and spectacular wedding decors.
We provide multiple wedding event services, over 50 different types of wedding stage decorations including mandaps, engagement decoration, stage decoration for the reception, marriage hall decoration, floral decoration, lighting decoration, dining hall decoration, live entertainment, gate arches, balloon and car decoration. We also take care of the cuisine, wedding planning, flower decoration,photography, mehendi design, car booking and music band. Photography
Capturing all memories is the last of your concerns as you are busy living the moments. We make the arrangements for wedding photographers as well. Wedding Planning
Venue requirements for your wedding should be artistically planned. The unique factor of the wedding starts from invitation design till the venue decoration for various functions, where every detail should be belted under one theme. Flower Decoration
For the right play of colour, fragrance and ambience, you can choose from a variety of beautiful arrangements created by our skilled professionals using both Indian and imported flowers. Multi Cuisine Catering
Most guests pronounce a wedding to be good only if they have a great food. Hence the wedding feast has to be given particular care and attention. Mehendi, Car and Music Band
These are provided to the clients depending on the package they choose and the budget they wish to go for.
Providing all the above services we strive to make your marriage the best day ever!
Choosing Akshara Entertainments for Wedding decorations and arrangements will make your lifetime moment unforgettable. Associate with Akshara Entertainments and make the wedding a grand success.
For any Urgent requirements, Get in Touch Now!