Birthday Party Organizers & Planners in Hyderabad
Akshara Entertainments is a Leading birthday party organizer and planner in Hyderabad. We specialize in creating unique and memorable birthday partie Decoration, planning and organizing for people of all ages. We believe in bringing your idea to reality and making your birthday celebration a remarkable experience with our highly trained and creative professionals. We have the knowledge, skills, and passion for making your birthday party one-of-a-kind, whether you're organizing a grand celebration or a smaller gathering. Our services include event conceptualization, venue selection, decoration, entertainment, food and beverage, and all other event planning and management aspects. Akshara Entertainments is the best choice for all your birthday party Decorations needs in Hyderabad because of our commitment to providing great service and customer satisfaction.
Birthday is one of the most special days in our lives. It is about celebrating the life we live with all the sweet and sour events that happen throughout the year. We try compensating all things that we have missed and compromised, and along with that, cherishing and celebrating all that we have gained in that one day. Hence, if you are planning to rock your birthday party this year, we could be the helping hand that could bring all your expectations to reality. We Akshara Entertainments are one of the best event organizers and birthday party planners in Hyderabad and we provide the services at very reasonable rates. 
Birthday Party Planners in Hyderabad
Akshara Entertainments offers theme designs and birthday party decoration services in Hyderabad, Secunderabad, Telangana, and Andhra Pradesh.
We have been organizing birthday parties for the past 10 years and growing steadily with new creative themes for birthdays. We help you organize birthdays and events with a level of professionalism and creativity. Our unique birthday themes will make your occasion special and memorable for kids and families. As the best Birthday Party Organizer, we will ensure you that we will give the best themes @ a good price for your birthday party.
We offer a creative blend of themes for all sorts of budgets. We are specialized in Normal Backdrops, 2D Themes, 3D Themes, and balloon decorations. We have 100's the latest and most creative themes: Wonderland, Madagascar, Mickey 3D, Chota Bheem, Angry Birds, Jungle Theme, Star Theme, Fairy Tale, Mickey Mouse, and many more. If you have any new ideas, you can share them with us so that we can discuss with our design team the feasibility of the theme as per your idea.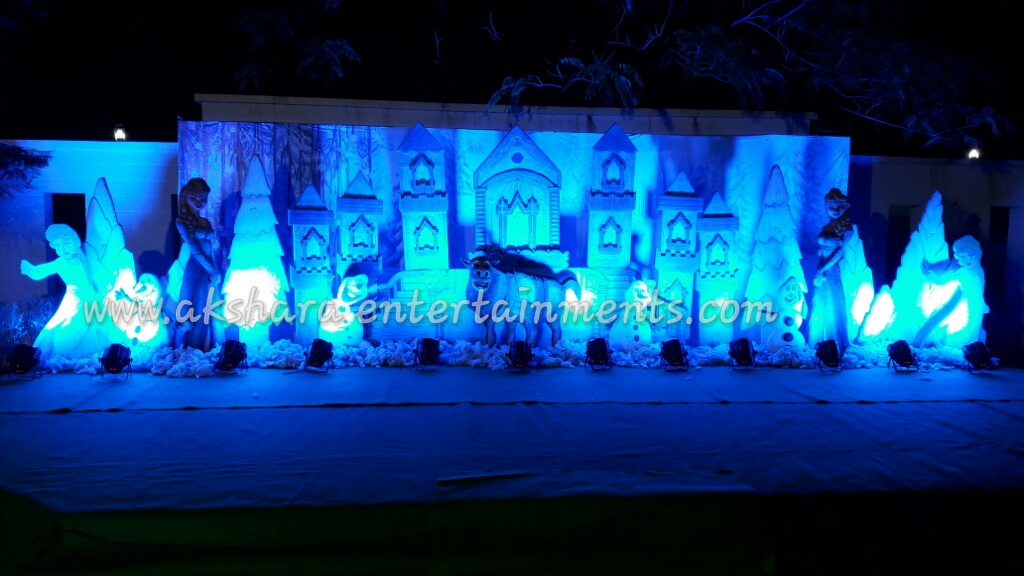 We Akshara Entertainments are one of the premier Birthday Party Decorators in Hyderabad, who have executed varied types of birthday themes and a matching party to go with it. We began the endeavor with several innovative ideas and experimented with different looks and themes. Ours is a team of professionals clubbed with dreamers, and this inimitable combination makes us stand apart and wins us a perfect edge all over. There was no stopping after the initial wait, the bubbling time every commercial enterprise goes through. We pin this success to the ever-ready teams and their respective leaders who are there for every beck and call of the customer. The customer was, is, and will always be a central icon for us, Birthday Party planners in Hyderabad. Our clients become our partners where exclusive selections and theme refinement are concerned. Our track record shows that we haven't let a single suggestion of our client drop.
Birthday party Decorators in hyderabad
Akshara Entertainments is a Hyderabad-based, highly experienced birthday party planner and decorator. We provide various decorative services to make your birthday party memorable and wonderful. Our Decorative Services Include The Following: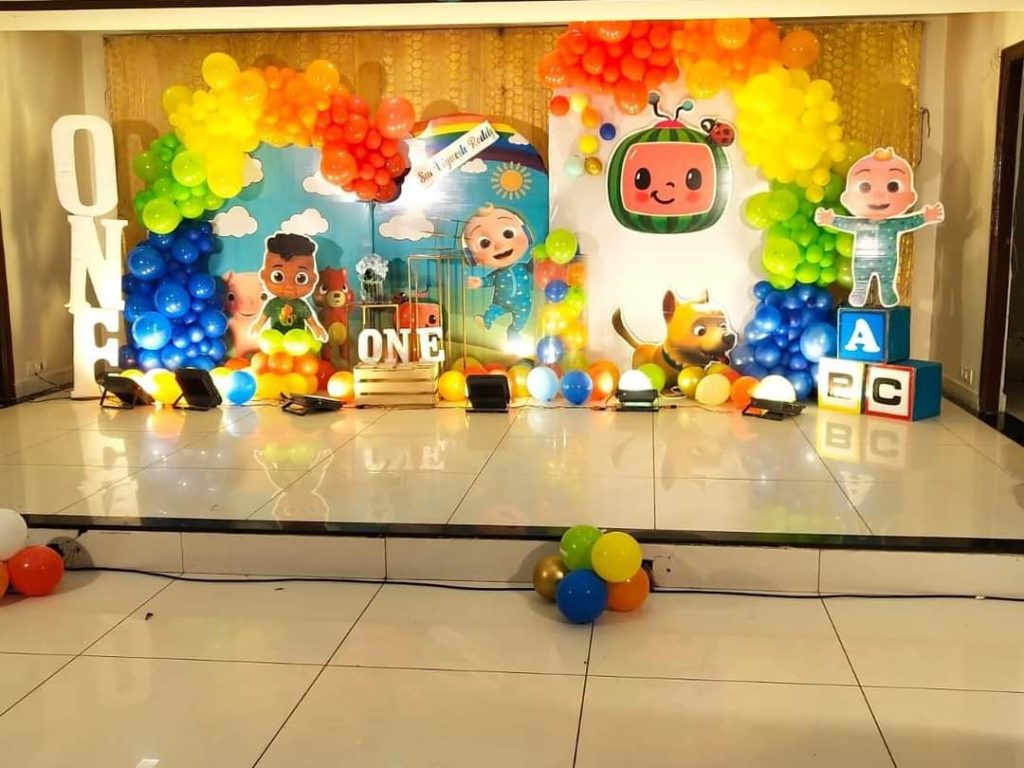 We use various colours, shapes, and sizes to create amazing balloon arrangements and decorations to improve your birthday party's overall appearance and mood.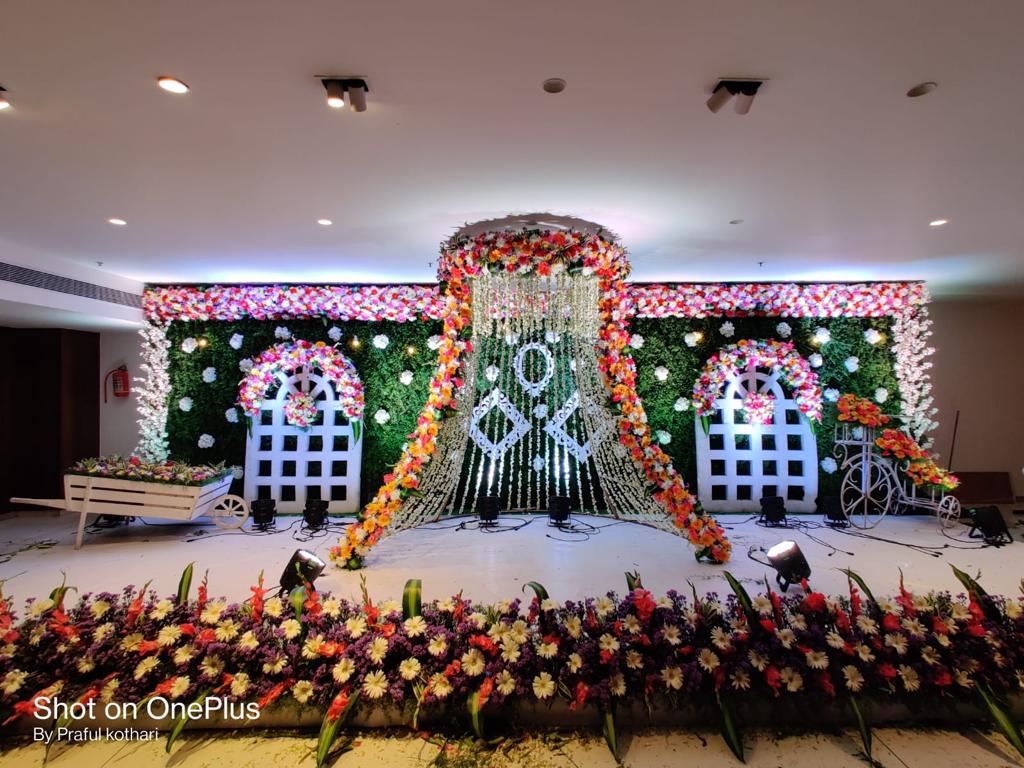 Flower arrangements may provide an extremely beautiful finish to any birthday party. Our skilled florists will collaborate with you to design gorgeous floral arrangements that boost the theme of your party.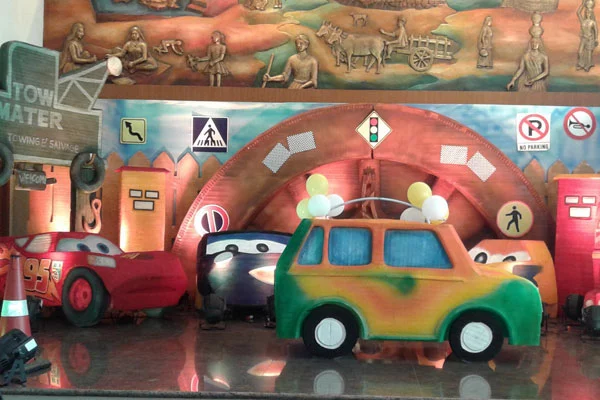 We can create a themed decoration to match the interests and personality of the birthday boy or girl. Our innovative 2D and 3D theme decorators specialize in creating stunning birthday setups to cherish the event. We have expertise in creating decorations tailored to your party's specific theme.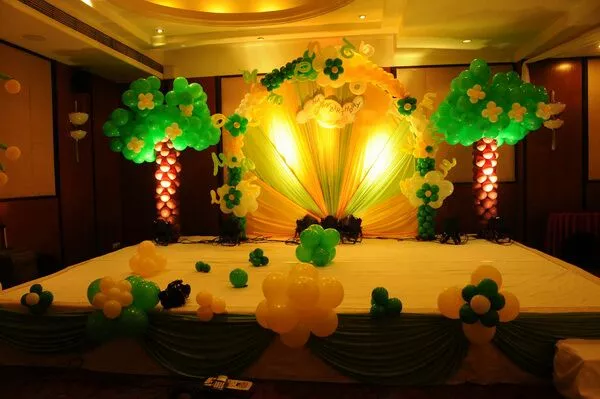 Light Decoration
A birthday party's atmosphere cannot be created without the right lighting. Our lighting specialists can create a warm and inviting atmosphere using fairy lights, string lights, lanterns, and other lighting options.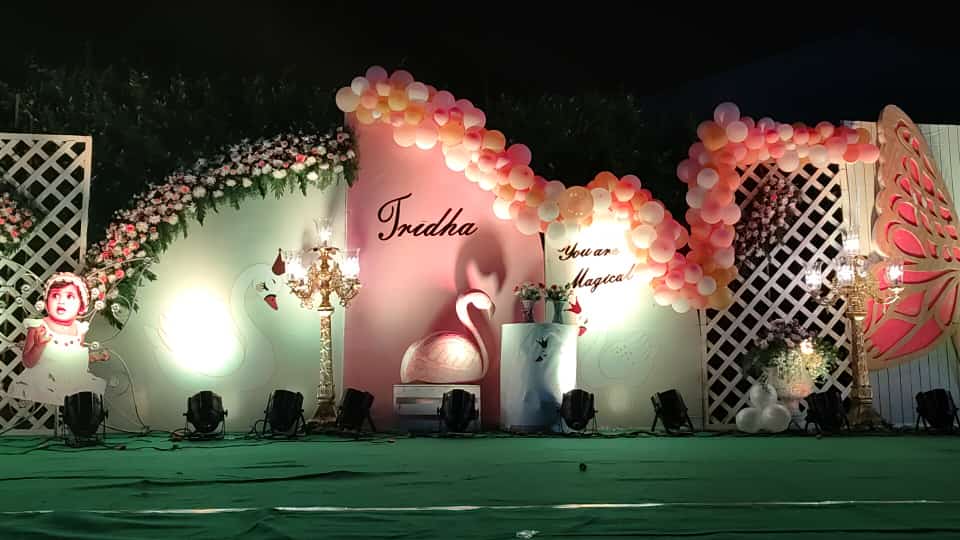 We specialize in creating custom backdrops for your birthday party using balloons, flowers, lights, or other materials to create a stunning visual impact.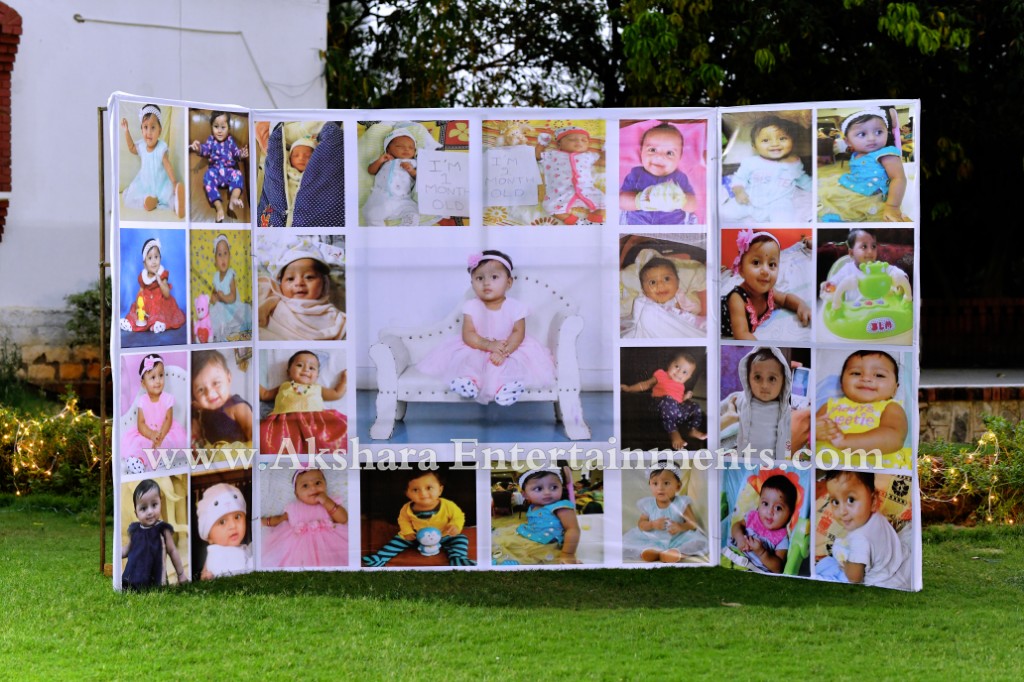 Banners and Posters
Custom-made banners and posters can be used to personalize your birthday party and provide a fun and exciting feel. We can create and manufacture banners and posters that represent the theme of your celebration and highlight the personality of the birthday boy or girl.
Our goal is to provide you with the best decoration services in Hyderabad so that your birthday celebration is an amazing experience. Contact us today to learn more about how we can assist you in planning and carrying out the perfect birthday celebration.
The Ultimate Guide to Planning the Perfect Birthday Party
Set a Budget: You should decide how much money you're willing to spend on the birthday party so that you can manage your funds carefully and achieve the best value for your money.
Choose a Venue: The venue for the birthday party should be suitable for the number of guests you're inviting, as well as being convenient and accessible to everyone.
Select a Theme: A birthday theme decorations can help guide all of your party planning decisions, making the birthday celebration more pleasant and memorable. The theme should reflect the birthday boy or girl's interests and personality.
Plan the Menu: When creating the menu, keep in mind your guests' food and drink preferences, as well as any dietary requirements. Make sure you provide a variety of choices for everyone to enjoy.
Invite Guests:
Invite Attendees: Make a guest list.
Send out invites in a timely manner.
Follow up with guests to ensure they received the invitation.
Choose Entertainment: Your entertainment options should depend on the age and interests of the birthday boy or girl and the guests. Mimicry, dance shows, DJs, live bands, or professional entertainers are possible options.
Decorate the Venue: Decorations can complement the party's concept and create a visually appealing environment. To guarantee that your venue looks its best, consider hiring a reputable party planner or decoration agency. Akshara Entertainments are the best Birthday party decorator and planner in Hyderabad.

You can create a great and enjoyable birthday celebration for everyone if you follow these tips.
Here Are Some Tips on How To Plan a Themed Birthday Party in Hyderabad
Pick an Affordable Location
The greatest approach to save money is to host the party in your home with a small number of people if you don't want to spend money renting a party space or hall. We at Akshara Entertainments will help you have your birthday party at home and will provide you with numerous inexpensive decorating ideas so you can turn your house into a party venue.
Create personalized invitations
It's time to invite your family and friends to the birthday party event once the location and time have been decided. Giving your invitations is another simple way to reduce party expenses. Birthday event party planners in Hyderabad, like Akshara Entertainments can help clients find sample invitations and free templates online.
Birthday Party Event Organizers will organize your party based on any theme decorations you select. On any theme, the birthday party decorations, cake, clothes, stage, etc. are completed. This is all you can do if you're arranging a party at your house or renting a venue space. They will only go for a theme that calls for little expenditure on furnishings and attire.
Some of The Most Popular Decorations For Girls' Birthday Parties
Sleepover birthday parties- Nothing makes girls happier than spending precious time catching up with their girlfriends in the early hours of the morning. And a sleepover birthday party is just that.
Princess birthday parties- There is a tonne of potential princess party themes to select from, including Elsa, Moana, and even traditional princesses like Cinderella and Snow White. Your daughter can become a princess even if it is for one day.
Barbie birthday parties- A Barbie-themed party will be the perfect fit for your daughter if she adores Barbie dolls. For the ultimate Barbie effect, decorate with lots of pink and black!
Some of The Most Popular Decorations For Boy's Birthday Parties
Treasure hunt birthday parties- Kids love a backyard scavenger hunt, and if you're trying to stick to a strict party budget, this is a great theme. Set up clues leading to one another and concluding with the discovery of the treasure, which is a stack of "gold brick" party favours.

Detective birthday parties- Your child may like a little mystery. He and his friends will play detective for the day as part of the ultimate "whodunit" to celebrate his birthday.

Gaming birthday parties- You must admit that your boy's love of video games provides for a very simple party theme. With a themed birthday party decorators, you can emulate your child's preferred game. There must be a video game tournament to add to the excitement at the birthday party.
Make Your Birthday Memorable With Akshara Entertainments' Wide Variety of Entertainment Options
Akshara Entertainments in Hyderabad has provided entertaining options for a birthday party. Games and activities, magic shows, face painting, crafts, food & snacks, and music and dancing are among the entertainment services options for customers to make their special day more memorable.
Decorations with a Theme
A fairytale-themed decoration with a queen for the birthday girl and a castle backdrop will add a touch of magic to the birthday party.
Interactive Entertainment 
A bouncy castle to play in will keep the kids entertained. Set up carnival games for the guests, such as a ring toss, duck pond, and balloon shoots. Professional face painting for visitors will add a touch of creativity.
Dancing and Music
Begin the celebration with a professional DJ who will play music and encourage people to dance.
Hire a live band to perform music and thrill your guests. Hire a drum kit and have people sing their favourite songs in turns.
Snacks and Food
A cotton candy machine is a great way to treat guests to a sweet snack.
Create a popcorn bar with different flavours for guests to enjoy.
With a candy buffet, you can serve a variety of sweets.
A Balloon decoration
Make a balloon arch for the birthday girl or boy as a backdrop decorations.
Balloon decorations for each table provide a bright colour to the environment.
Arrange balloon bouquets around the space for additional decoration.
Party Supplies
Give guests a goodie bag with sweets and little toys to take home. As a party favour, give guests personalised symbols such as keychains or magnets.
By providing various entertainment options, Akshara Entertainments can assist consumers in Hyderabad in making their birthday party an amazing experience. 
Steps to book a party decoration for a birthday
Akshara Entertainments has a quick response support service that can answer any queries regarding preparing your child's next birthday party.
If you have any questions, please get in touch with us at Akshara Entertainments Birthday Party Organisers, Decorations Hyderabad 3-8-6/4, Nehru Nagar, Ramanthapur Hyderabad, Telangana 500013.
Clients can also book by calling +91-80191 43046, +91-9866899829, or mail us at aksharaparties999@gmail.com.
We also have a contact us form where the client can enter their name, phone number, and email address, choose the event they want our help with, and then type a message. When we hear this, we contact them as soon as possible and walk them through the booking process for the
For any Urgent requirements, Get in Touch Now!