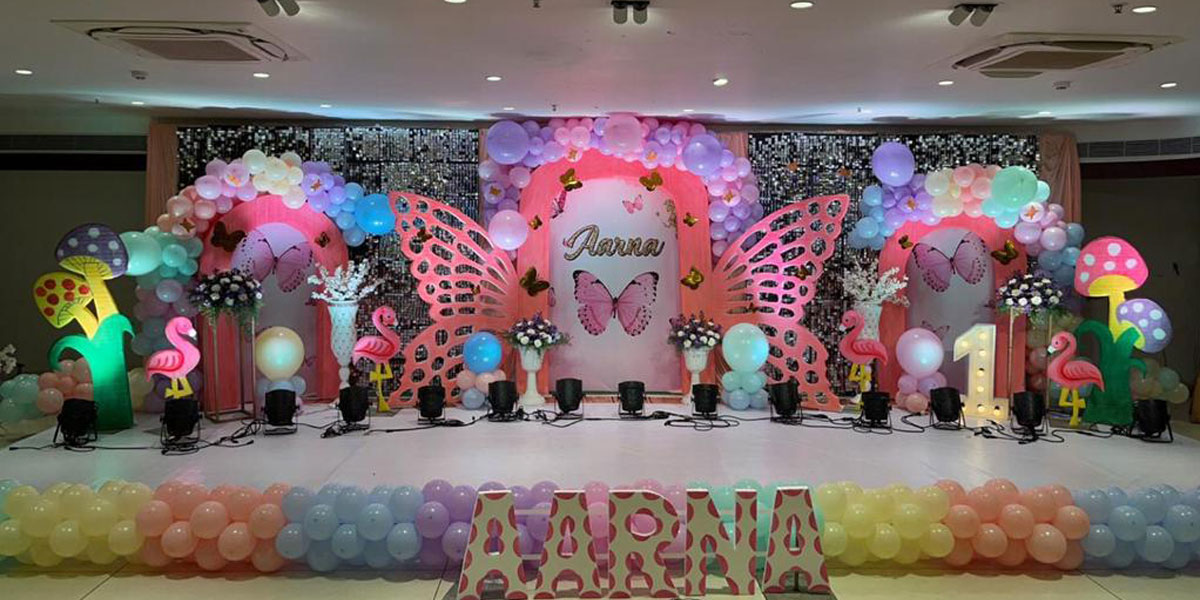 The one special day in everyone's life that breaks the day-to-day monotony, and every known person would greet, "Happy Birthday."
It is always nice to remember this special day, no matter how life treats you. This day is your day, so you deserve something wonderful.
Celebration is an important part of life, and one cannot ignore it. No matter how memorable the previous birthday parties had been so far, the one right now is always special. Thereby, plan this special event in your life in the best possible manner.
Are you planning to celebrate this important event in your home sweet home?
If 'yes' then it is indeed a pretty good idea. People these days are quite comfortable celebrating at home. Perhaps the Covid-19 hangover is lingering in the minds, and people aren't comfortable travelling to different places. Hence, many of your friends and relatives would prefer to travel to your home. Maybe it is comforting and easier to manage the guests. Also, celebrating a birthday at home provides an added advantage in entertaining your guests, and there is this overall experience of leisure and fun. A homely atmosphere plus celebration is a recipe for an ideal Birthday Party.
Celebration at home is an added responsibility, and ensuring proper decoration would glitter the atmosphere. Akshara Entertainments would combine creativity with professionalism and ensure that the birthday boy/girl feels special.
To plan a birthday party at home, one should take into consideration:
Space
Theme
Person's age
Budget
Once the abovementioned factors are gauged, you can plan the Party in the best possible manner.
Taking care of the rudimentary stuff is important before you can move on to meticulous planning.
Depending on the budget, you can opt for simple decoration or extravagant.
Simple Birthday Decoration:
Wash the home properly and make it tidy
If there is a small garden, then pluck some flowers or bring the potted plants inside the house. It does give a natural look.
Furniture ought to be arranged appropriately because the guests can move freely.
Arrange the balcony with lights. The seating should be comfortable and keep a table for some snacks or drinks.
Be careful when children are around. Birthday safety measures are essential when there are small children around. The atmosphere is usually chaotic; hence, ensure the candles are covered and kept at a safe distance.
Toilets/Washrooms should be clean and tidy as many guests would be using them.
There could be leftover food that you might give to a maidservant; however, a voluntary donation would undoubtedly be a wonderful gesture.
Ways to Decorate your home for a Birthday Party
Select a Theme For the Birthday 
Wear your creative hat and start thinking of a Birthday theme. Age is an essential factor because the theme should be according to the person's age and gender. Age can also be the theme as the decoration can be done with the number as the central theme. Chhota Bheem, unicorn, Barbie, and Harry Potter are intriguing themes for children. However, exotic themes such as Arabian Nights, Bollywood, and Games of Thrones are exotic themes.
Happy Birthday Banner
It is your birthday so let people know about it. You have the boasting right for this day. A banner is vital for any birthday decoration idea at home. Use materials such as fabric or paper in various sizes and shapes and decorate or make it special with battery-operated LED string lights. For kids, banners with cartoon characters are always attractive.
Decorate with Flowers
Flowers bring fragrance and elegance and, most important, beautify the surroundings. A birthday celebration with flowers would brighten the mood, and it certainly refreshes the surroundings. Decorate your house with seasonal fresh flowers that also gel with the theme and the surroundings.
There is plenty that one can do with flowers, such as decorating with a name or maybe initials of the name.
Lighting to lighten up the atmosphere
Create a festive mood by lighting up the atmosphere. A birthday is no less than a festival. Special occasions should always glitter with lights. To set the mood of the Party, lights would play an important part. Depending on your theme and taste, you can choose the happy birthday string lights, fairy lights, or glowing decorative lights or flowers. Led candle lights would glow your place and lighten up the atmosphere.
Make it Grandeur with a Grand Entrance
Birthdays are indeed festivities, and the festive vibes should start from the entrance. Let the Party begin from the entrance. Please don't make it extravagant, let the decoration be subtle. Set the tone of the Party with some creative decoration at the entrance. The first impression is the last is an old cliché but very much relevant. Your entrance is the first impression, and it should be properly decorated.
Conclusion
Celebration at home is an added responsibility, and ensuring proper decoration would glitter the atmosphere. Akshara Entertainments would combine creativity with professionalism and ensure that the birthday boy/girl feels special.
We have been in this field for more than a decade, and since 2007 it's been a fascinating journey. Bringing joy and celebration is our mission, and that too at a reasonable cost. Akshara Entertainments is efficient and affordable. Check our past events https://www.aksharaentertainments.com/birthday-party-planners-hyderabad/
organized in Hyderabad and Sec'bad and all the artistic endeavours such as 2-D & 3-D themes, wedding, and flower decorations.