Birthday Planning Services
Akshara Entertainments are Professional Birthday planner in Hyderabad offering complete birthday planning services. Our team will take care of all your birthday requirements and plan the entire birthday to make it a special and amazing experience. Our team of specialists will provide various birthday party decoration ideas, venue ideas, and other entertainment ideas for the complete event.
Birthday is one of the most special days in our lives. It is about celebrating the life we live with all the sweet and sour events that happen throughout the year. We try compensating all things that we have missed and compromised, and along with that, cherishing and celebrating all that we have gained in that one day. Hence, if you are planning to rock your birthday party this year, we could be the helping hand that could bring all your expectations to reality. We Akshara Entertainments are one of the best birthday party planners in Hyderabad and we provide the services at very reasonable rates.
Birthday Venues in Hyderabad
We help you with selecting the best venue for the birthday party depending on your budget and location. Selecting a right venue for birthday is very crucial and we guests needs to travel from their place. So the birthday venue must be accessible and convenient for all the attendees. We have information about all the major venues for birthday in Hyderabad and provide your best suitable match based on your location preference and budget.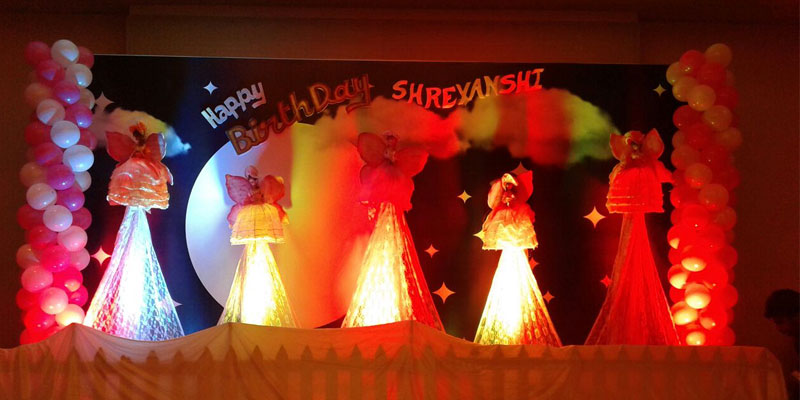 We provide guidance in selecting the proper theme of the birthday party based on various choices. We provide a wide range of themes including 3d themes, 2d Themes, Balloon themes and Normal Backdrops. If you have any new ideas for the birthday theme, we can work with our designing team and design the theme based on its feasibility.
Birthday Entertainment Ideas
Birthday party for kids will become boring and irritating if we do not include games and entertainment. To make it enjoyable and memorable for kids we have wide range of entertainments services. We can arrange Magic Shows, Games, Tattoo's, Digital Painting, Mehendi designing for girls and many more entertaining features at the birthday venue.
We provide the birthday party planning services which includes an arrangement of venue, theme decoration, arrangements of games and so on. Our only mission is to deliver you and your guests the most memorable time of their life. Our team comes up with the games that engage the entire crowd and help them enjoy every bit of the celebration you intend to throw. If you are willing to make yours or your loved ones birthday memorable, we are the right people to reach. We are the well-known birthday party event planner in Hyderabad and will deliver the services that will excel your expectations.
For any Urgent requirements, Get in Touch Now!